The Captain's Well
John Greenleaf Whittier's Poem
Amesbury poet, John Greenleaf Whittier, wrote a poem entitled,
The Captain's Well
, about the perilous adventures of Captain Valentine Bagley II.
Thirsting in the Arabian Desert
While Bagley was a ship's carpenter, his ship, the Commerce of Boston, was stranded on the coast of Arabia in July of 1792. He and the ship's crew had to walk through the Arabian Desert to find help. Thirty four started the journey, only eight survived.
Fulfilling a Promise
When Captain Bagley eventually returned to Amesbury, Massachusetts, he fulfilled a promise he had made while suffering in the desert. He had vowed to dig a well for all to use, so that no man should suffer from thirst as he did.
The Captain's Well Today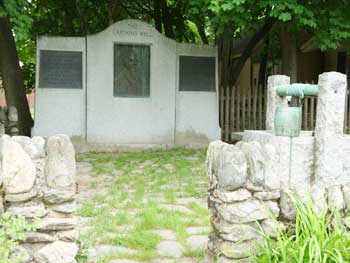 By the time Whittier wrote his poem, in 1889, the well had fallen into disrepair. In the late 1890s, the well was cleaned up, a canopy built over it and a pipe installed to connect it to the town water system. Later, the wooden canopy (shown above) was replaced by a permanent monument engraved with Whittier's poem. It still stands there today, in front of the Amesbury Middle School at 220 Main Street in Amesbury, Massachusetts.
About Captain Valentine Bagley II,
A Colby Descendant
Captain Valentine Bagley II is a 6th-generation descendant of Anthony Colby. He and his family are buried in the Union Cemetery in Amesbury, Massachussetts.